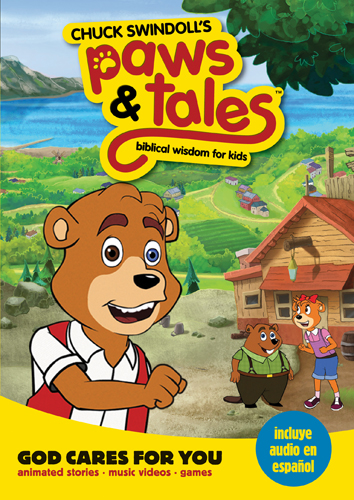 Giveaway: -Prize Claimed
I was exited to get this DVD for my kids, there is little to be found for good quality Christian cartoons for children. Paws & Tales does not disappoint. This cartoon provides us with wonderful a wonderful story, great characters and is able to convey a practical Biblically based message that can relate to kids.
The first story is called "The Good Shepard", it is about a shepherd that is training two of the
Paws & Tales
main characters to take care of the sheep for him. Through this process they learn what a good shepherd does and how God shepherds us by taking care of us and protecting us.
The second story in this DVD is called "A Good Foundation". This is a story about a group of friends who could not decide what kind of clubhouse to build, so they decide to build 2 different clubhouses. One on the water and one in a tree. They did not follow the advice of the designer and found that the clubhouse was deemed unsafe. The failed to follow the principal rule of building on a strong foundation (or in this case a steady strong tree).
While the story and the animation is well done, I'm a little disappointed with how the audio was mixed on these DVD's. The dialogue is hard to hear because the music is too loud. I hope they can correct this for future episodes.
This could look good to any parent wanting to get their kids good Christian DVD's, but if it fails to attract the interest of the child it is pointless. Here are some thoughts from an interview with my son:
What did you learn?:
I learned that Shepherds take care of Sheep
Did you enjoy watching it?
Yes
Do you want to watch other videos with the same characters in it?
Yes
Who is your favorite character?
I like the wolves and Ezra the Shepherd
My son however did not like the music videos, while my daughter did like the music videos.
NOTE: THE TRAILER SHOWS ANIMATION THAT IS SUBPAR TO THE ACTUAL DVD
For more information visit:
http://www.tyndale.pawsandtalesgames.com
I received this DVD free from tyndale house publishers for my honest review.